The technical information related to the BMW i3 model will be available in the database across Europe, with references, labour times and prices.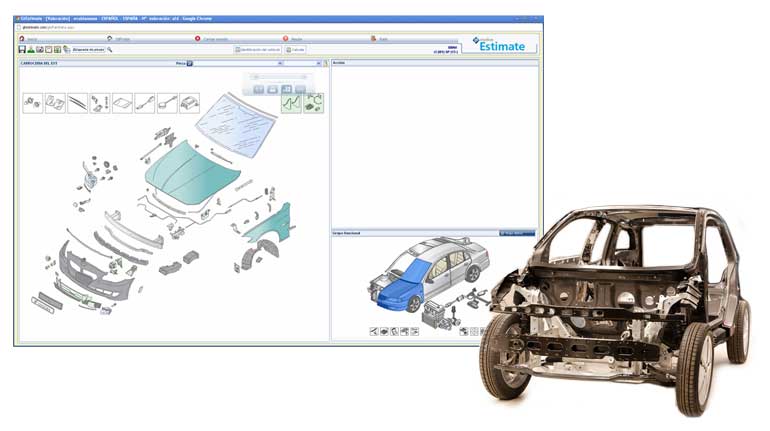 GT Motive has included the i3, BMW's first electric vehicle, in the July issue of GT Motive Estimate, its estimating solution. GT Motive Estimate contains technical information for estimating breakdowns, claims and maintenance, with references, labour times and prices for over 36 makes and 928 models —95% of passenger cars in Europe.
The company is currently involved in an ambitious international expansion in Europe, adding these developments in its advanced technical information database to a new generation of business platforms for the insurance industry and for vehicle fleet management.
In addition to this news item of interest to the repair industry in Europe, GT Motive Estimate makes it possible to exactly identify OEM spare parts to ensure greater speed and efficiency in the repair process through its VIN Query application. The unique listing of spare parts of GT Motive Estimate helps to identify new materials, such as aluminium and high-strength steel, through a colour palette.
Aluminium is a material that requires different repair techniques from those required by steel, but this material has been used, to a greater or lesser extent, for a long time in the manufacture of automobiles, so repair shops are more familiar with the required repair techniques.
This time, the composition of safety cells, which are made of reinforced plastic with carbon fibre, is new.
This is a challenge for workshops, as they will have to invest resources in training and equipment.
Ancillary information
1) GT Motive Estimate adapts its board navigation, especially in the engine area.
2) This has been a challenge for GT Motive, since the existing specific information is not very extensive. A major effort has been made to make documentation comprehensive prior to its development.
3) It is a vehicle that requires very little maintenance, there is no need for oil, filter, spark plug and timing belt changes; it does not have an exhaust system nor a fuel tank, for example.
4) A 100% electric vehicle has up to 6,000 fewer pieces on average than an internal combustion vehicle.
5) Beyond the mechanics, the materials used for the construction of the body in what the brand calls LifeDrive architecture are worthy of mention. This is an architectural concept comprised of two separate units:
a. The life module is a high-strength and lightweight passenger cabin made from carbon fibre reinforced plastic (a material that was reserved for some very specific pieces or exclusive vehicles until recently).
b. The drive module, which is constructed out of aluminium, consists of the electric drive train, the engine, the high-voltage lithium-ion batteries and the air-conditioning and heating systems.
According to Damien Dolan, Senior Director  Business Information  and Technology, "GT Motive is an European company dedicated to the development of management solutions of car crashes, maintenances and breakdowns to the automotive industry. Our solutions provide the technology which allows to obtain the best results and to restore the normal in day to day after a crash car or after a breakdown of the vehicle. This is part of our committed with our customers in Europe and with Investment in R&D&I. Of the 28 million planned investments for 5 years, about 5 million euros has been committed since 2012."
GT Motive informs you that the personal data that you provide by writing a comment will be treated by GT Motive S.L. The purpose of collecting and processing your personal data is to manage comments and to control the spam. Legitimization is done through your consent. The data you provide us will be located in the servers of our hosting provider Hetzner (www.hetzner.com/rechtliches/system-policies). See privacy policy of www.gtmotive.com : http://gtmotive.com/en/privacy-policy/. You can access, rectify, limit and delete your data through the email dpo(@)gtmotive.com , as well as the right to file a claim with a control authority. You can check here our Policy Privacy